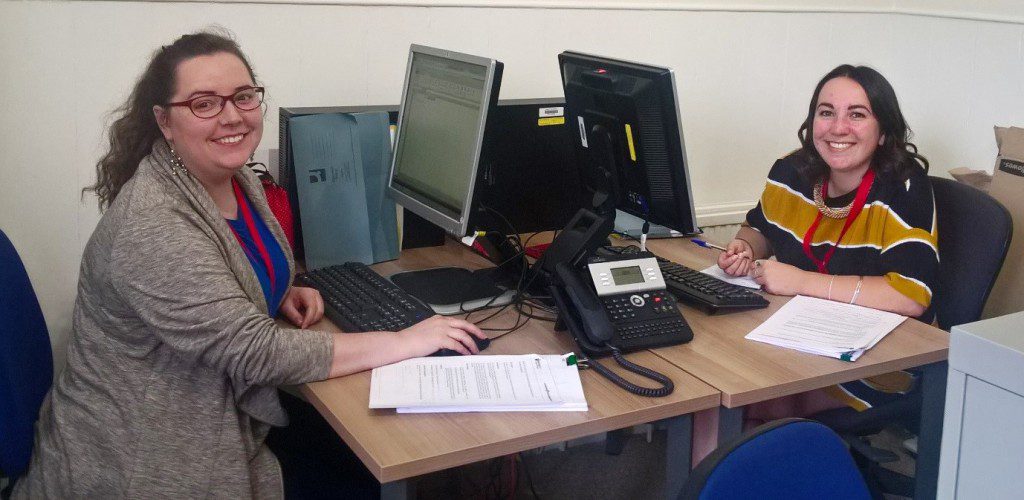 Nicole Wortman (left) and Anna Rowe (right) getting to grips with Collections Management at Historic Royal Palaces
The first week of the Leicester Museum Studies internship at Hampton Court was a whirlwind as we discovered the complexity of Collections Management at the Palace. Every day we learned something new, from on-site preventive conservation to the intricacies of the Collections Management System (CMS) database. During the intensive eight week internship, which introduced us to all the critical aspects and responsibilities of collections management and care, we have explored the grounds and stores, one of our favourite parts of any museum or historic site. These rooms are filled with history, intrigue and royal treasures. The items within range from wooden panels and royal toilets to original Tudor leather maché ceiling roundels, commissioned by Henry VIII. The range of objects within these stores is simply amazing, and are all within the walls of Hampton Court Palace, tucked away from the public's wandering eye.
We have also gained extremely valuable lessons in the understanding and usage of Historic Royal Palaces' Collections Management System (CMS). Firstly we learnt to understand the numbering system, which we then put to use as we searched for numerous items, we have also helped to update the system by entering and updating object information as well.