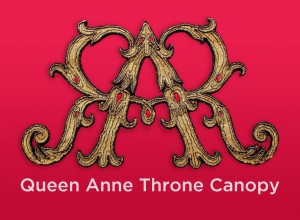 Welcome to our QATC blog where we will be regularly sharing progress on the conservation and redisplay of our new acquisition: a Queen Anne Throne Canopy. We think that this might be the earliest and most complete British royal canopy of state anywhere outside of the royal palaces; it is a superb example and we are very fortunate and excited to have it in our collection.
We will tell the story of the throne canopy, initially from the point of view of the curator who will explain the history and significance and then from the conservator's perspective where we will talk about the conservation challenges we are facing. We hope you'll enjoy reading about this fascinating object over the next few months through to its installation in the King's Presence Chamber at Kensington Palace in 2017.
Nikki Chard – Textile Conservator
Acquired with the assistance of the Art Fund. Conserved with assistance from Lord Barnby's Foundation, Idlewild Trust, The Radcliffe Trust, The Leche trust, Broadley Charitable Trust and the Worshipful Company of Tin Plate Workers alias Wire Workers. We are grateful for their support.