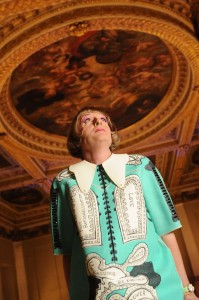 Turner Prize winning artist, Grayson Perry, last night (25 February 2013) launched our celebrations for the 100th anniversary of the textile conservation studio at Hampton Court Palace. He addressed an audience, from across the conservation world of culture and heritage at Banqueting House, on time: craftsman or vandal?
Prior to this event Historic Royal Palaces' conservation team welcomed Grayson Perry to Hampton Court Palace where he took a tour of the conservation studios and Henry VIII's magnificent tapestries.
Grayson Perry described conservation as a 'weirdly mystical science' and praised 'the amazing care, knowledge and skill that goes into making objects "not change"'. Whilst Grayson Perry was not concerned whether his own works should survive beyond his mortal life, he felt differently towards the tapestries at Hampton Court Palace.
'[They] have come down to us through the centuries – they've been through the filter which says they are important and beautiful objects, so we know we need to preserve them for the future.'
It is clear that after last night's events the importance of the conservation team's work at Historic Royal Palaces is recognised and valued by all, with the Chief Executive of Historic Royal Palaces, Michael Day, echoing our thoughts in saying.
It is through their dedication and immensely skilled work that we continue to give these Palaces a future as long as their past.
Watch the full interview with Grayson Perry when he visited the textile conservation studio at Hampton Court Palace:
http://youtu.be/1zASZO0oTRI