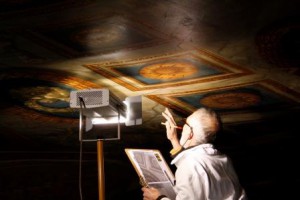 If you visit Hampton Court Palace between now and the end of February, you will notice that access to the Queen's Stair has been restricted. A scaffold has been erected in order to give access to the painted ceiling. This amazing entrance to the Queen's Apartments was painted by Queen Caroline's favourite architect, the designer and painter William Kent, between 1734 and 1735. Sadly the painting is now in danger of disappearing, and we are doing our best to save it with regular monitoring and reattachment of any flaking paint.
Although conservation work was undertaken in the 1950s and 1960s, by the 1970s the ceiling was described as 'ill fated', having suffered from water damage and repeated flaking of paint. Our current approach began in 2001 when we looked to find a suitable adhesive to stabilise the flaking paint. This search has been complicated by the discovery that the painted decoration was applied on top of a whitewash, which should have been removed before William Kent's team started work, creating an inherent instability. We have discovered an adhesive that appears to be effective, however we are continuing to monitor this and test alternatives. We have focussed on improving the environmental conditions, and have installed double doors on the west side to reduce the amount of outside air getting in. We also use new technology and the best imaging techniques to help us closely monitor the condition of the painting.
The 2016 campaign focusses on documentation. We will record in detail the condition of the entire ceiling in order to make a comparison to the previous survey of 2010. This will allow us to assess the rate and extent of deterioration, and the effectiveness of our environmental improvements and treatment trials. We will, of course, also take the opportunity granted by the scaffold to stabilise any flaking paint that is in danger of being lost and to test new adhesives to add to our knowledge base of possible treatment solutions in our on-going quest to provide the best possible care for this glorious ceiling.