The tapestries on display at Hampton Court Palace are some of the finest in the world and our conservators have in place a planned conservation programme to ensure their survival. The next on the list – The Death of Hercules – was removed from display recently and will spend the next two years in our conservation studio. This impressive tapestry, which dates from the early 16th century, is from a series of Flemish tapestries depicting the story of Hercules and illustrates his death on Mount Oeta. It is thought to have been acquired by Henry VIII; the inventory of his collection includes 'eight pieces of a history of Hercules'. It is woven in both wool and silk and measures 4m x 5m
Taking a tapestry down involves quite a team: textile conservators; preventive conservators; the salvage team and warders and is carried out from two tall scaffold towers. The tapestry, which hung in the Great Watching Chamber was attached to the wall using Velcro™. The 'soft' section is stitched to the upper edge of the back of the tapestry and the 'hard' section stapled to a wooden batten on the wall.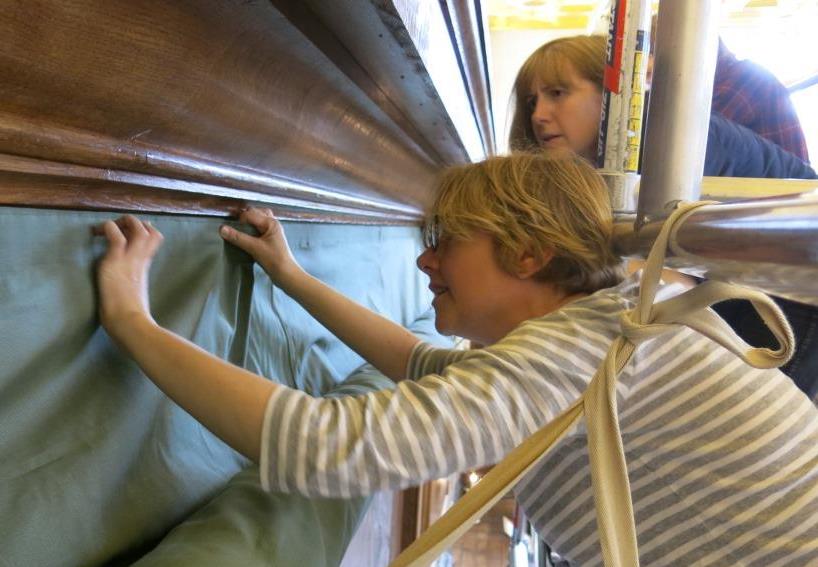 In a carefully choreographed process, five conservators, working from the scaffold pull webbing straps to roll the tapestry horizontally from the bottom edge to the top up the wall and onto a drain pipe. The whole operation is managed and directed from the project leader on the ground. Once the tapestry is rolled onto the drain pipe, it is pulled away from the wall and the straps are used to slowly lower the tapestry down to the ground. It is then completely unrolled onto large dust sheets and re rolled face outwards before being taken to the tapestry treatment workroom to begin its conservation journey.
Take a look at the time lapse video below to see how this is done.
Kate French,  Textile Treatment Conservator.