The Death of Hercules tapestry was recently removed from the Great Watching Chamber at Hampton Court Palace for conservation reasons.  You can learn more about the tapestry and how it was safely removed from display in our earlier blog post here.  We have now begun the two-year conservation programme, starting with wet cleaning in our custom-built facility.
The textile conservation studios at Hampton Court Palace have been in existence for over 100 years and house the largest wash table facility in the UK and possibly Europe. It was built in 1990 and measures 7 x 10m, designed to accommodate the largest tapestries in our collection from The History of Abraham series that hang in the Great Hall. The table can use up to 8000 litres of water but is designed to be able to be divided and for the wet cleaning of Hercules, half the table was used as the tapestry is relatively small, measuring 4 x 5m. We use a conservation grade detergent to help remove ingrained soiling, re-hydrate the fibres, re-balance the pH level and improve the overall appearance of the tapestry.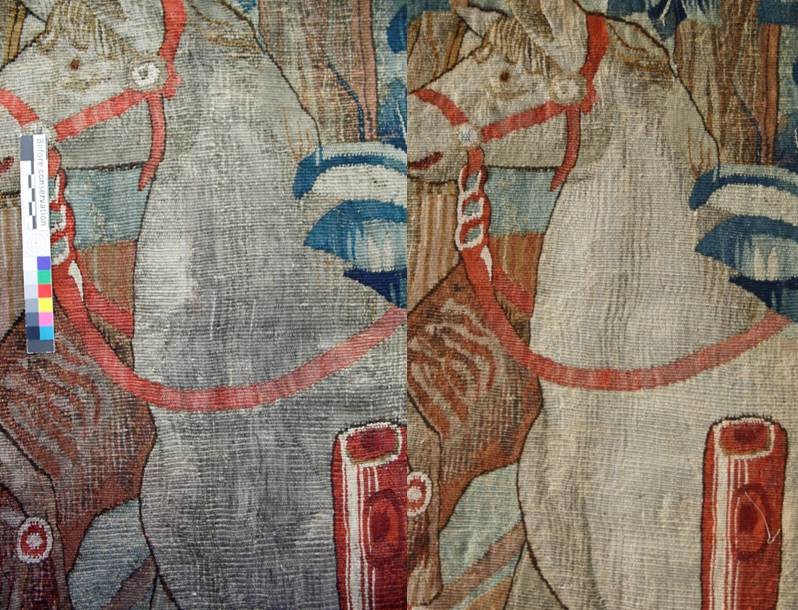 After initial preparation which included testing the threads for colourfastness of the dyes, the tapestry was submerged. Once the fibres had relaxed detergent was sprayed through a moving boom on to the tapestry and sponged by conservators working from a gantry. The bath is then drained and the tapestry rinsed thoroughly remove all the detergent before blotting away excess water with towels and allowing the tapestry to dry naturally overnight. Watch us in action here:
The tapestry is now ready to continue its conservation journey on the loom in our conservation studios at Hampton Court Palace. As part of the treatment, a linen support will be applied to ensure that Hercules can support his own weight when he returns to the Great Watching Chamber in 2018.
Rebecca Bissonnet, Tapestry Conservation Supervisor