My name is Hannah Sutherland and I am the tapestry conservation intern here at Hampton Court Palace. This twelve-month internship is an opportunity for me develop my understanding and conservation skills in the field of tapestry conservation and has been jointly funded by Historic Royal Palaces and the Clothworkers' Foundation. I graduated with a MPhil in Textile Conservation from the Centre for Textile Conservation at the University of Glasgow in summer 2016 and am thrilled to have been offered this internship; it's been really exciting for me to work as part of a large team caring for these unique and very special objects.
The last few weeks have seen dramatic changes taking place at Hampton Court Palace, as several of our Tudor tapestries were returned to the Great Hall and Great Watching Chamber following conservation. Over two days a team of ten conservators reinstalled five armorials and six tapestries, all dating from the sixteenth century. An armorial is a small tapestry which depicts the crests or insignia of a particular person or family and ours belonged to Henry VIII and Cardinal Thomas Wolsey. Most of the larger tapestries depict the story of 'Dido and Aeneas', from Virgil's 'Aeneid'. You can see a film of this happening here.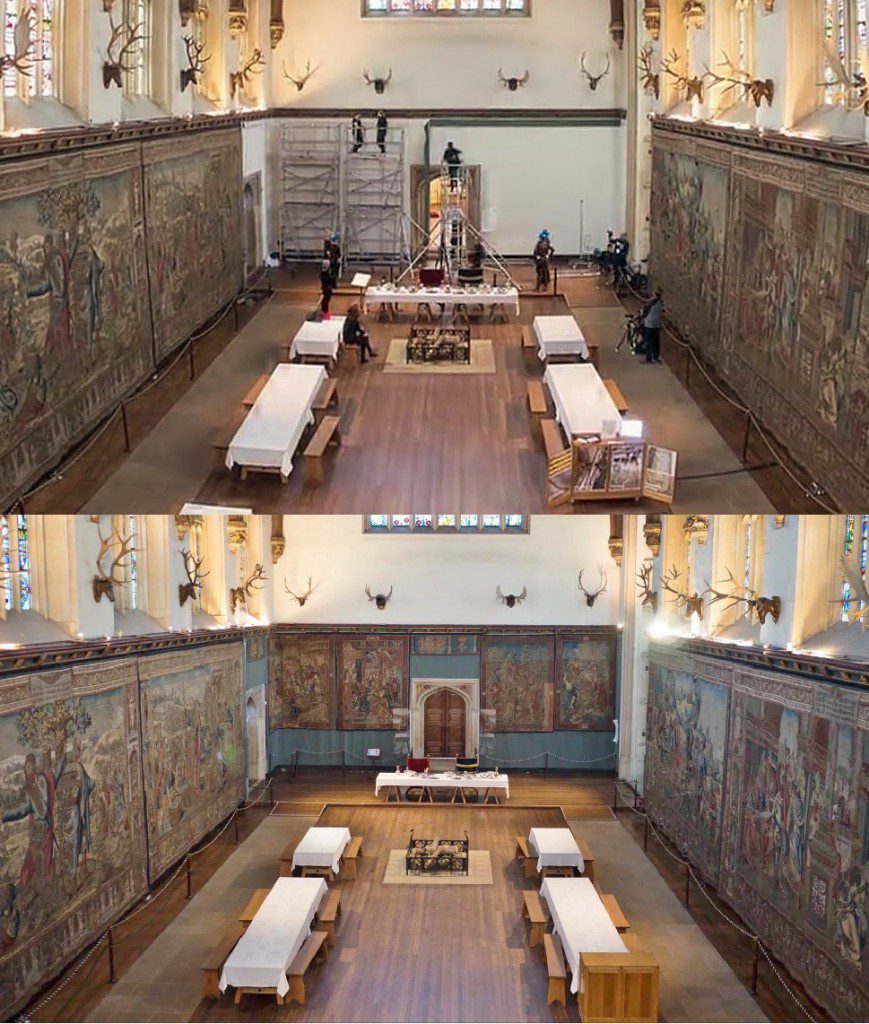 The installation of a tapestry is a big event; lots of planning, many people and specially designed lifting equipment to help us raise these large, fragile and very heavy objects from a horizontal to a vertical position. We can then unroll the tapestry straight onto the wall. Depending on the position this is done either vertically; from left to right,  or horizontally; from top to bottom.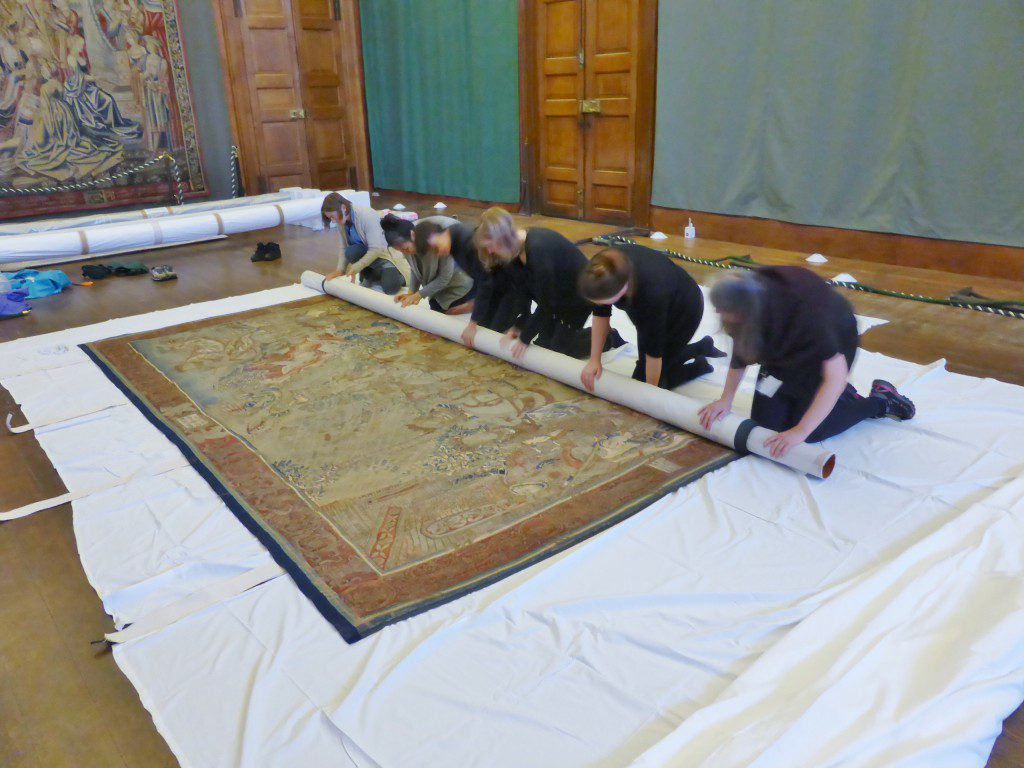 Velcro® is used to secure the tapestries onto wooden battens fixed to the wall. It is strong enough to hold the weight of the tapestry and ensures the load is distributed evenly. Original display methods tended to involve the use of nails hammered through the tapestry and into walls which cause holes in the tapestry and place high levels of stress in small areas. We also place modern green curtains behind the tapestries to separate and insulate them from the palace walls.
This same system is used for the hangings on our throne canopies and beds and you can read about in more detail here
Working on this project has given me a great introduction to these iconic objects, that are cared for by Historic Royal Palaces. I'm sure you'll agree that it's great to have these works of art back in the same place that they hung when new, almost 500 years ago.
Hannah Sutherland, Tapestry Conservation intern 2016-17.