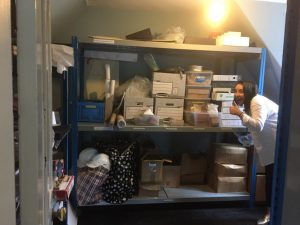 How do you catalogue architectural samples and object fragments? That was the question, or rather the challenge posed to us during our graduate internship in Collections Management. Over the years,samples have been taken during conservation works at HRP's palaces, then  tucked away in a quiet room in one of the attics. Their connection with the palaces and the Incredible stories they can tell remain hidden whilst these bits and bobs remain undocumented.. The third week of our internship  was spent researching and preparing the review methodology, criteria, review grid, and presenting our proposal for approval by HRP's Registrar
We have now begun the process of photographing, numbering, labelling every sample or fragment. The core criteria we have developed focus on significance, condition assessment, reference uses, documentation, and storage and care. Each criterion is marked on a scale of A – E, with 'A' being a top mark. To some this may seem like an arduous task, but Anna and I have really enjoyed the planning stage and truly couldn't wait to begin.
We are now about half way through this first section of material and can see progress being made. Archive-quality boxes have been bought and labelled to hold the samples and, having completed the initial review and documentation, we still have more work to do. We will catalogue the items to create a working log for reference and planning for the Commissioned Treatment teams at HRP. We hope to complete this in the next three weeks, and will post for a final time, with a summary of the project. Please check back to see our progress.