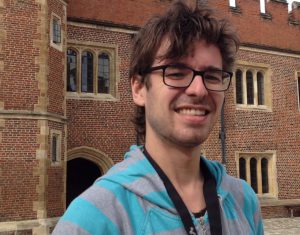 My name is Martin Michette and I am writing my PhD on Reigate Stone at the Tower of London. Reigate Stone is a well known 'Problem Stone'; most of it is decaying. Maybe you have noticed the crumbling walls of the Bell Tower at the Tower of London? Reigate Stone used to be one of London's most important building stones, but its stock is declining. Fortunately there is still some surviving in our palaces. Rare examples of well preserved Reigate Stone are the ceilings of the Cradle Tower at the Tower of London and the Great Hall doorway at Hampton Court Palace.
Reigate Stone is coloured pale green to light grey. If you look closely you might also notice a sandy texture, or a distinctive flaking surface. If you think you've found any Reigate Stone why not put a photo on Twitter or Instagram with #ReigateStone. I will blog regularly throughout the course of my PhD and would be delighted to hear from you.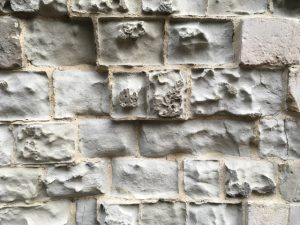 The stone came from around Reigate in Surrey. It was very suitable for detailed carving and squared ashlar. This led to extensive use around London and the South East from the 11 th to 16 th century. Unfortunately it was also prone to weathering. Later centuries saw widespread replacement with other building stones. Attempts at conservation began in the late 19 th century. Many early treatments and techniques proved detrimental. The challenge is especially hard because the stone defies common characterisation. It is neither a sandstone nor a limestone. It also varies in composition and condition. My research will characterise the stone and assess past treatment measures. It will also investigate preventive, 'green' measures. These will support sustainable conservation strategies in the future. Finding and recording as many examples of the stone as possible using a range of non-destructive equipment will be an important part of my work. So when you are next at the Tower, if you see me holding strange devices up against a wall, come and ask me what I'm doing.
This is collaborative research between the University of Oxford, Historic Royal Palaces and Carden and Godfrey Architects. The project is co-funded by the EPSRC Centre of Doctoral Training in Science and Engineering in Arts, Heritage and Archaeology (SEAHA) and Historic Royal Palaces.