"Without him I disappear." These poignant words were said by Katherine Parr – a character in the Musical SIX, which imagines Henry VIII's six wives as a Spice Girls-esque girl band. While the musical ends with an uplifting sassy song about rewriting "herstory" to tell the queens' stories while still passing the Bechdel Test, this isn't always the reality with female monarchs in history, who often disappear behind their king, or are barely remembered at all. This International Women's Day, we're reflecting on a few monarchs in history who truly left their mark – this is our list of top Badass Queens.
Empress Matilda (1102-1167)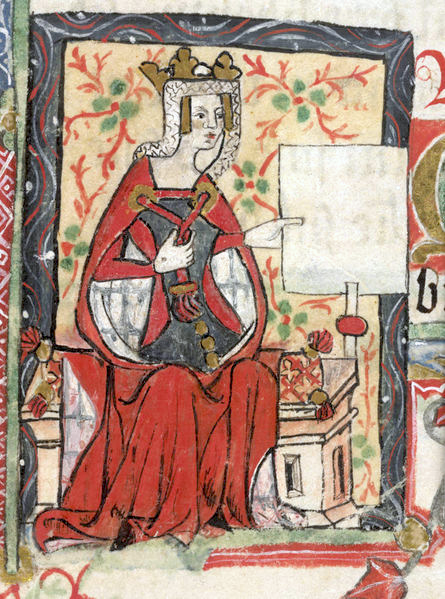 Despite a huge amount of resistance to the idea of a woman sitting on the English throne, Empress Matilda was a famously feisty monarch willing to put England through nearly a decade of bloody civil war in her attempt to claim her right to the crown. Daughter of Henry I of England and married to future Holy Roman Emperor Henry V in 1114, by her early teens Matilda was already one of the most powerful women in Europe. After the death of her brother Prince William, the line of succession passed to Matilda, but Henry wasn't keen to pronounce his daughter as heir. Henry remarried in the hopes of fathering a legitimate son, but the marriage ended childless. With no male heir in the running (none of his 25-or-so illegitimate children were eligible!) he was finally forced to pronounce Matilda as next in line to the throne.
Even though England's nobility swore to recognise Matilda's legitimacy, the idea of a woman ruler was unprecedented and unpopular, and after Henry's death in 1135 a short coup led to Matilda's cousin Stephen of Blois being crowned instead. Matilda was furious, and launched a campaign with her half-brother Robert of Gloucester and uncle David I of Scotland to take what she saw as her rightful place on the English throne. This wasn't any old succession dispute, but one that ushered in a drawn-out period of civil war and lawlessness across England that has since become known as 'The Anarchy'.
Although she got pretty close to the throne, beating Stephen at the Battle of Lincoln in 1141 and entering London the same year, she didn't manage to win Londoners round and was chased back to Oxford before she could be crowned. Throughout the conflict Matilda had a hard time endearing herself to the public: contemporary chroniclers describe Stephen as a charismatic and charming leader, while Matilda is frequently characterised as aggressive and arrogant, considered especially unacceptable given that she was a woman (#BanBossy).
But whatever her temperament, there was no doubting her determination: after finding herself cornered at a besieged Oxford Castle in the winter of 1142, Matilda managed to escape by crossing the frozen River Thames on foot! The war had entered a stalemate, and the deaths of several of Matilda's most important supporters weakened her position. From 1145, a lot of her followers dropped out to fight in the Second Crusade, and Matilda's son Henry began taking over from her in leading the conflict.  Matilda left England in 1148, and from then on concentrated her efforts on governing Normandy from her court in Rouen. In 1153, the church finally managed to broker a truce between Stephen and Henry, whereby Henry recognised Stephen as king and became his successor.
Matilda remained in Normandy for the rest of her life, and in her later years acted as Henry's advisor and representative on the continent, dealing with several diplomatic crises including the Thomas Becket dispute. Still, even in death Matilda wasn't granted recognition in her own right – her epitaph reads 'great by birth, greater by marriage, greatest in her offspring'.
Eleanor of Aquitaine (1122- 1204)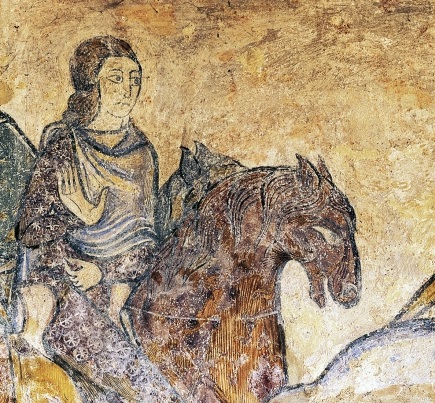 Eleanor was a Badass Queen twice over – first as Queen of France, then of England! Her father William X died in 1137, leaving Eleanor to inherit his titles, lands and enormous wealth at just 15. Suddenly one of France's most eligible bachelorettes, she married Louis, son of the French King, and not long after became Queen of France, still in her teens.
Famously fierce and tenacious, Eleanor exerted considerable influence over Louis, and accompanied him on the Second Crusade of 1147-49. After their marriage was annulled in 1152, she stayed single for just two months before marrying the heir to the English throne Henry Plantagenet, and in 1154 they were crowned King and Queen of England. Eleanor took a leading role in running the country, directing church and state affairs when Henry was away, and travelling extensively to consolidate their power across England. This was all while raising eight children, and finding time to be a great patron of courtly love poetry!
Eleanor and Henry separated in 1167, and after Eleanor sided with her children over Henry during a revolt, she became Henry's prisoner. She was held under house arrest for over a decade, and it was only in 1189 after Henry died and her son Richard the Lionheart became king that Eleanor was freed.
By now a widow in her 70s, instead of retiring to a quiet life away from court politics, Eleanor became more badass than ever. While Richard was away on crusade she took a leading role once again in running the realm and fending off threats of attack, and when he was taken hostage by the Duke of Austria she personally collected his ransom money and travelled to Austria to deliver it and ensure his safe return to England.
After spending many of her final years criss-crossing France and Spain on diplomatic and military missions, Eleanor died in 1204 at a monastery in Anjou. The nuns there described her as a queen 'who surpassed almost all the queens of the world'.
Isabella of France (1292-1358)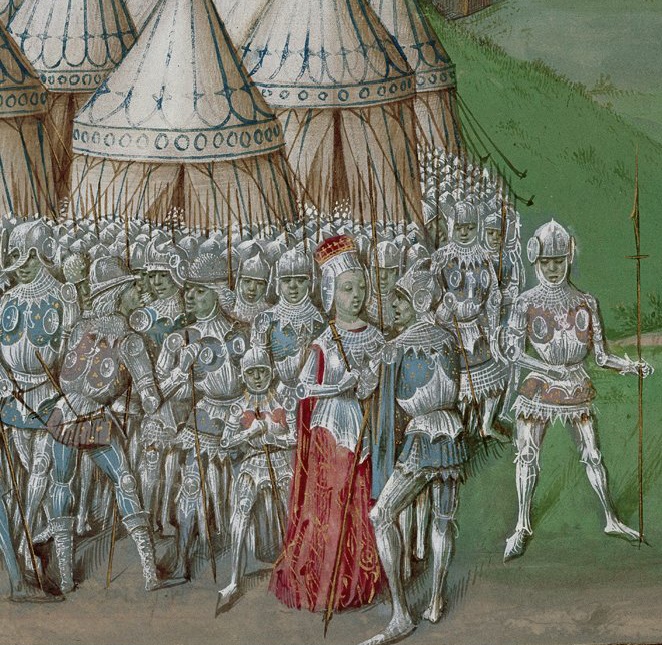 Queen of England as wife of Edward II and known as the 'She-Wolf of France', Isabella has frequently been depicted and described as a kind of original femme-fatale: a beautiful and intelligent but ruthlessly cruel Badass Queen.
Despite her fearsome reputation, in the first years of her marriage to Edward, Isabella actually worked hard to toe the line, and resolve controversies caused by her husband's odd behaviour and very, very intimate relationship with his favourite Piers Gaveston. Even though Edward refused to grant Isabella her own lands, and chose to sit with Gaveston rather than her at their own wedding (!), Isabella successfully forged an alliance with Gaveston and promoted peace between Edward and his barons who objected to Gaveston's excessive power and influence over the king.
Even after Gaveston was captured and executed by the barons in 1312, Isabella worked tirelessly to navigate the diplomatic fall-out between Edward and his revolting nobles. However, by the 1320s her husband had a new controversial favourite, Hugh Despenser, whose relationship with Edward was widely believed to be sexual. This was more than Isabella could deal with, and she took off on a long pilgrimage around the country.
The situation worsened when Isabella refused to swear loyalty to the Despenser family, to which Edward retaliated by seizing her English lands and their four children, who were placed in the care of the Despensers. At this point Isabella finally fully snapped. In France, she began an affair with powerful English nobleman Roger Mortimer, with whom she plotted against the Despenser family and her despised husband. Arriving back in England in September 1326 with a small army, Isabella swept through the country gathering support, closing in on Edward and Hugh and eventually arresting them, forcing Edward to abdicate (making him the first English monarch to do so).
Now Isabella could take her revenge, and in November 1326 she had Hugh Despenser horrifically executed in front of her. The following year Edward died while imprisoned at Berkeley Castle, and it is still hotly disputed whether Isabella had her husband murdered.
With Edward and Hugh now out the way, Isabella's 14-year-old son Edward III was crowned king. Initially Isabella served as regent (and did a pretty good job too), until her son grew to resent her and Roger's influence. In 1330 Edward pulled off a surprise coup against Roger, and had him executed. Isabella was removed from court, but consoled herself by leading a  luxurious life of leisure in retirement. To cap off her ridiculously eventful life, shortly before she died in 1358, Isabella became a nun.
Margaret of Anjou (1430-1482)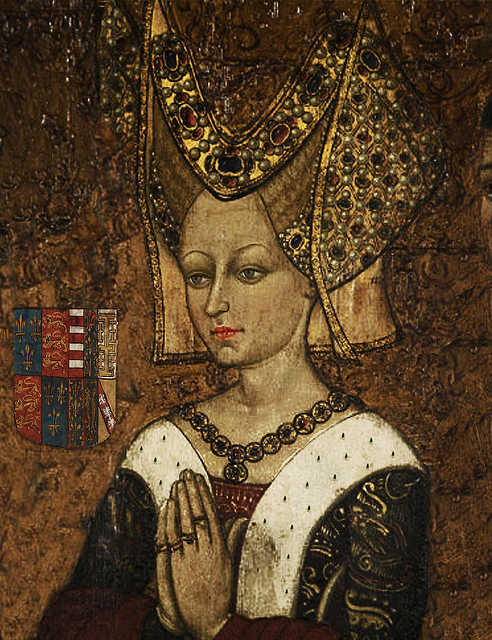 Shakespeare has really done a number on Margaret of Anjou's cultural legacy, depicting her as a terrifying and cruel 'wrinkled witch' in Richard III. But was she really much more badly behaved than the men around her?
Married in 1445 to Henry VI of England as part of an uneasy peace deal between England and France during the Hundred Years' War, unlike her timid husband Margaret was ambitious and confrontational. It didn't help that at times Henry struggled with serious mental health challenges, during which Margaret would essentially rule in his place. This upset the preferred dominant/passive relationship dynamic of a traditional medieval royal couple, and made Margaret a prominent and controversial figure at court.
First among her enemies was Richard of York, a powerful duke with a legitimate claim to the English throne, who by 1454 had managed to climb to the top of the political ladder and gain many allies thanks to Henry's ineffective leadership. The feud between Richard and Henry's rival factions soon boiled over into outright conflict – in no small part due to Margaret expelling the Yorkists from the Great Council of 1455 – and the War of the Roses raged on-and-off for the rest of her life.
Margaret herself was front and centre for much of the action. Despite some early successes on the battlefield, a crushing defeat at the Battle of Towton in 1461 deposed Henry, and Richard's son Edward declared himself king.
Despite her army being defeated and her husband imprisoned at the Tower of London, Margaret was still determined to win back the crown for her husband and only son. She travelled to France, made an alliance with former supporters of Edward through her cousin King Louis XI, and with them arranged for a fresh attack on Edward, who was successfully deposed. Her husband was briefly restored to the throne in 1470, but by this point was totally unfit to rule. Margaret was forced to lead her own army into the Battle of Tewkesbury in 1471, during which her son was killed and her forces decisively defeated. Edward VI retook the throne, and Margaret was imprisoned alongside her husband, who died shortly after.
With her family dead and the English throne in the hands of her enemies, Margaret's life ended in defeat. Eventually her ransom was paid by Louis XI, and she returned to France where she spent the rest of her life in relative poverty.
Elizabeth Woodville c.1437 – 1492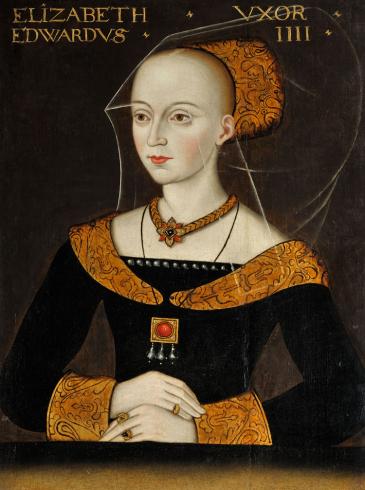 Widowed and mother of two at the age of around 24, Woodville's early life had not gone smoothly. Her husband had died in battle and her inheritance was taken away from her. Left with no fortune but for her sharp mind and beautiful face, Elizabeth is said to have sought out King Edward IV for help. He promptly fell in love with the beautiful widow and when she refused to become his mistress unless he put a ring on it, the couple secretly married.
However, it wasn't long before the union was revealed, and there was uproar. Woodville was a commoner, a Lancastrian and had just ruined all plans for the king to marry a French bride for political reasons. Nonetheless, despite rumours of witchcraft and the contempt of one of the most powerful peers in the land, the couple were initially very happy – until the unrelenting Wars of the Roses came between them. Edward was forced to flee, and Woodville, heavily pregnant with her sixth child was stranded with the other five children at the Tower of London. In the middle of the night, she fled, with her family and her mother in tow, for Westminster Abbey to claim Sanctuary – a month later she gave birth while in Sanctuary to the future Edward V.
After around a decade of further battles followed by relative peace, Elizabeth's husband King Edward died of pneumonia. Her young son Edward would succeed to the throne – but not for long, for Edward and his brother Richard suspiciously disappeared while staying at the Tower of London, becoming known as the Princes in the Tower. To make matters worse, the new King ordered the execution of Woodville's other son and brother. Elizabeth was furious. To take her revenge, she joined forces with the powerful Margaret Beaufort and arranged that Margaret's son Henry Tudor should move to claim the throne and marry Woodville's daughter Elizabeth of York, uniting the two warring houses. The plan was successful, and Elizabeth, her titles restored, retired to an Abbey.
Katherine Parr (1512 – 1548)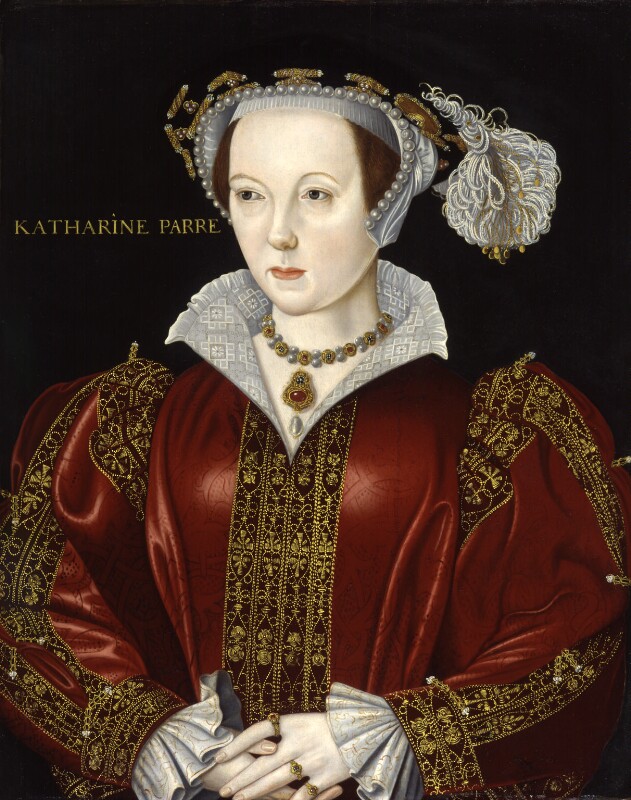 Parr was married first at the age of 17, and twice-widowed by 31. Intelligent, religious and pragmatic, when Henry VIII proposed (as an old, overweight man looking for lucky number six) she waited a few days before accepting the inevitable. The wedding was a quiet affair, taking place in the Queen's Privy Closet at Hampton Court Palace. The marriage advanced Parr's position and her family's, but this decision was also a great sacrifice. Katherine was in love with a courtier, Thomas Seymour, and choosing to marry the King was like placing her career before her man (but more obligatory).
Parr saw her influential position as Queen as an opportunity to act for good, alleviate the suffering of those who were dying at the hands of religious prejudice, witch-hunts and plots, as well as advance the reformist faith – indeed Katherine's influence was pivotal in pushing forward the creation of a Protestant Church in England. Katherine also took an astute role in politics, meeting with officials and advising the King. Henry's confidence in her was such that he appointed her Regent when he left the country for campaigns in France, as well as Regent should he die before his son came of age.
However, her strong opinions would also become a source of trouble. There were some that saw her as too influential and her religious beliefs as a threat. A plot was conceived to bring her down whereby a reformist, Anne Askew, was arrested and tortured, and asked to name those at court who shared her beliefs. Parr was warned of the plan, and went straight to the King to ask for mercy – the years of support and nursing she had spent on him paid off and he pardoned her.  
Parr had received a good education herself and had a passion for learning. She was the first English queen to write and publish her own books, first prayers and reflections, then a personal testimony of her faith. Katherine believed in the education of women, and took personal interest in the education of all three of Henry's children, particularly Elizabeth. She chose young Elizabeth's tutors herself, electing a Cambridge scholar to be her new schoolmaster. Crucially, Parr also reunited Henry with his bastardised daughters. On the King's deathbed he reinstated both Mary and Elizabeth's right to succession.  
Finally, Katherine was free to marry whom she chose – her old flame Thomas Seymour. Sadly, Thomas turned out to be complete reprobate. Many believe he only married Parr through selfish ambition to be close to Princess Elizabeth (whom Katherine had taken in under her guardian). Indeed, not long after their marriage, her husband's suspicious creepy behaviour towards young Elizabeth became severe enough that Katherine had no choice but to send the girl away. Nonetheless, the foundations laid by Katherine in the upbringing and education of her step-daughters likely influenced the next half-century of history. 
Elizabeth I (1533 – 1603)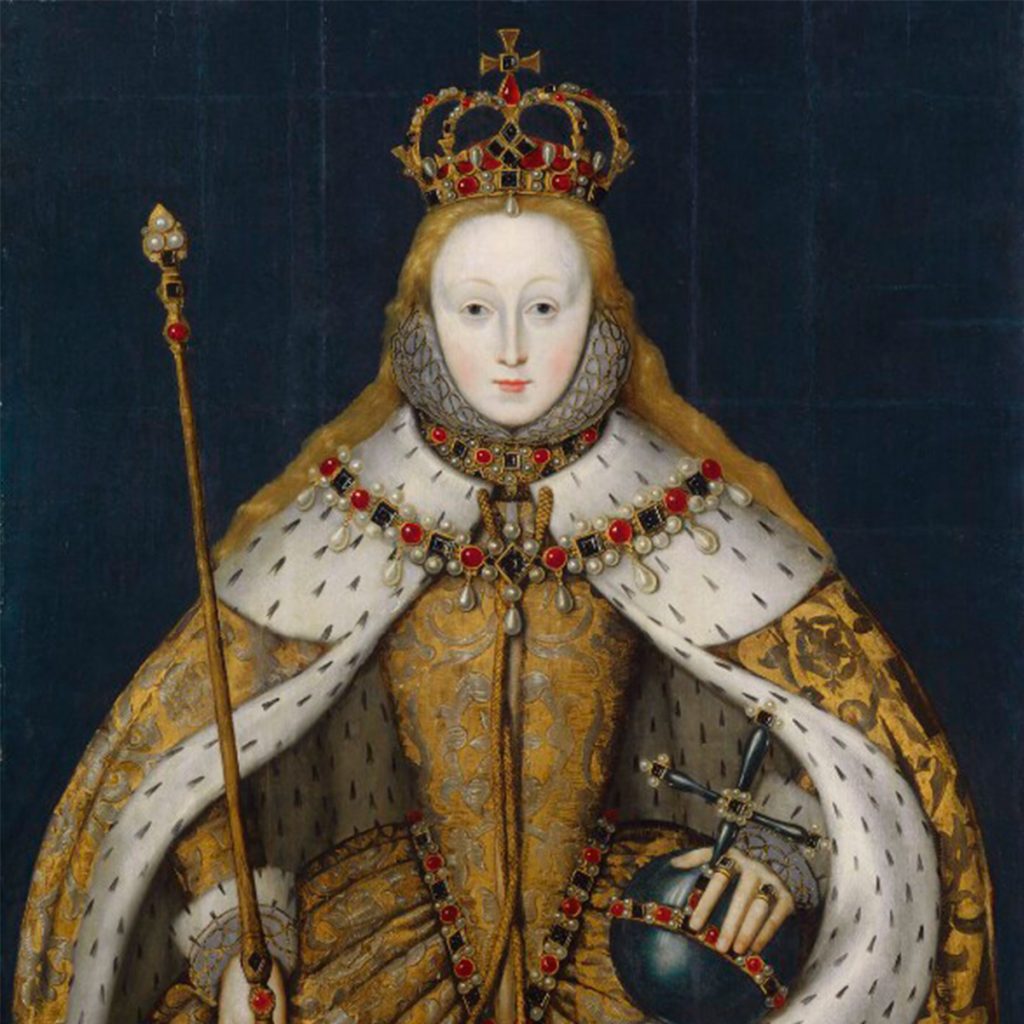 Elizabeth I is not a forgotten queen. She reigned for 45 years and is well remembered for her defeat of the Spanish Armada, her progresses, her economic policies, and her patronage of the arts – as well as her virginity. The history books talk much of her make-up and spinsterhood, but there is no doubt that she was one of the most badass monarchs England ever had.
Elizabeth's early life did not start well. By the age of three, her father had had her mother executed, and Elizabeth had been deemed illegitimate. Nonetheless she was given a rigorous education. One tutor even noted that her mind showed "no womanly weakness". She excelled at Greek, Latin, French and Italian, as well as theology – knowledge that would equip her for diplomatic leadership so necessary in later life.
In 1554, under the reign of her devout Catholic sister Mary, Elizabeth became the focus of a Protestant rebellion. She was arrested and sent to the Tower of London, but was found innocent and escaped with her life a few months later. Her true commitment to the reformed church was only openly revealed upon her accession to the throne.
Indeed, as Queen Elizabeth promptly expressed her support for the Protestant church, and yet her reign is celebrated for bringing relative religious stability to the country. She adopted a policy to not "make windows into men's souls", which allowed for a margin of freedom beyond that of the monarchs before her. Her astute appointment of ministers and officials along with careful housekeeping also led to a period of relative economic stability, which in turn allowed for the arts to flourish during this time. Elizabeth attended the first performance of Shakespeare's A Midsummer Night's Dream and appointed the acclaimed miniaturist Nicholas Hilliard as a court painter.
Elizabeth's choice not to marry was radical (and wholly understandable given her monster for a father and abusive step-father.) Yet, throughout her reign the expectation remained that she would find a husband and give birth to an heir. Instead, the Queen used her 'eligible bachelor' position as a political tool, while creating an image of herself as married to the nation. Her popularity with her subjects and her own self-styled image as Gloriana made Good Queen Bess into a legendary figure; today, she has been portrayed in more films and television shows than any other British monarch – put that in your exaggerated codpiece Henry.
By Oliver Frost and Annabel Sheen